Details
Product Details
Average Rating:

5

Speakers:

Duration:

20 Hours 53 Minutes

Copyright:

Apr 19, 2021

Product Code:

POS055335

Media Type:

Digital Recordings

- Also available: DVD
CPD
---
CPD
This online program is worth 21 hours CPD.
---
---
Speakers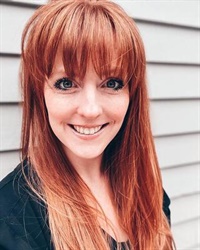 ---
Katelyn Baxter-Musser, LCSW, CDBT, CPD, is a licensed clinical social worker in private practice whose areas of expertise include the treatment of trauma, PTSD, depression, anxiety, grief and relationship issues. Her clinical experience includes serving as the Trauma Healing Services Clinical Coordinator for a non-profit organization dedicated to providing behavioral health counseling, crisis intervention and support to families and individuals facing domestic violence, abuse, ate crimes and other issues.

Ms. Baxter-Musser is a certified EMDR therapist through EMDRIA and is certified in Dialectical Behavior Therapy (CDBT) through Evergreen Certification Institute. She is a member of the National Association of Social Workers, the American Academy of Experts in Traumatic Stress, the National Center for Crisis Management and the Maine Collaborative Law Alliance.
Speaker Disclosures:
Financial: Katelyn Baxter-Musser maintains a private practice. She receives a speaking honorarium from PESI, Inc.
Non-financial: Katelyn Baxter-Musser is a member of the National Association of Social Workers.
---
Additional Info
Program Information
Access for Self-Study (Non-Interactive)
Access never expires for this product.
Objectives
Appraise the origins of Biosocial Theory and communicate the clinical implications of the theory.
Specify how DBT skills can help clients identify unhealthy interaction styles.
Characterize how mindfulness skills can empower clients to interpret situations in new ways and react in healthier ways.
Communicate how clinicians can effectively teach DBT skills and encourage support and constructive feedback in a group setting.
Distinguish ways in which clinicians can maximize client buy-in for DBT homework assignments.
Determine how interpersonal skills training can be used with clients to improve relationships.
Specify how DBT skills can be used to decrease the likelihood of compassion fatigue in clinicians.
Characterize how DBT skills can be utilized to identify and overcome obstacles to changing emotions and reactive behaviors.
Theorize ways in which DBT can be adapted for working with children and adolescents.
Provide a brief explanation of how DBT can be used in working with trauma survivors.
Establish how diary cards can be used by clients to monitor their emotions and track how they are using DBT skills to deal with challenges.
Specify how a chain analysis can be effectively utilized with clients to help them gain insight into how they can change problem behaviors.
Determine how opposite action strategies can be used by clients to reduce self-destructive urges.
Support how interpersonal effectiveness exercises can be employed in therapy to help clients keep relationship without sacrificing their self-respect.
Assess how a pros and cons list can help clients see the consequences of their actions and make better choices when they are faced with a difficult decision.
Employ strategies to confront therapy interfering behaviors and help clients overcome avoidance.
Articulate how Dialectical Behavior Therapy interventions can help clients foster radical acceptance of traumatic events and reduce feelings of shame, guilt and fear.
Specify how the STOP skills can help clients to manage crisis situations and prevent them from doing something impulsive they might regret later.
Determine how clinicians can use the levels of validation to enhance the therapeutic alliance and teach clients to validate themselves.
Demonstrate how DBT skills can be used with clients to reduce self-harm and suicidal behaviors.
Characterize how clinicians can help develop a client's Wise Mind state so they can be more aware of less impulsive in their actions.
Outline
Foundations of DBT
Biosocial Theory
Characteristics of DBT
DBT as an evidence-based practice
Dialectics: the balance of acceptance and change
DBT in the Clinical Setting
Application of DBT in the individual and group therapy setting
Skills training methods
Validation strategies
Research and limitations
DBT Skills Training
Mindfulness: Cultivate the Skills at the Core of Successful DBT Therapy
Acceptance vs. judgement
Wise mind – achieve harmony between emotion and reason
Accessible exercises for building mindfulness skills

Observation – keep clients calm, centred and aware
Describe – overcome assumptions
Participation – release judgement and fear

Strategies for teaching mindfully and exercises for therapy
Interpersonal Effectiveness: Skills to Build Better Relationships and Lives
Tools to identify strengths
Balancing relationships with self-respect
Exercises and role play guidance on how to:

Develop healthy assertiveness skills
Enhance conflict resolution skills
Build empathy
Keep problems from building up
Resist pressure

Top strategies for changing behaviour
Emotion Regulation: Practical Skills for Healthier Emotions and Greater Resilience
Strong emotions and poor coping skills
How to change unwanted emotions
Reduce emotional vulnerability while practising self-care
Opposite action skills to reduce maladaptive behaviour
Emotion Regulation exercises
Self-soothing strategies that work
Learn the sleep hygiene protocol
Distress Tolerance: Skills to Cope with Painful Moments and Survive Crisis
Developing crisis survival and reality acceptance skills
4 options to solving problems
Problem solving case studies
Using pros and cons to make decisions
STOP skills to manage crisis situations
The steps to practising radical acceptance
Tools to accept change
DBT in Clinical Practice
Analyzing behaviours; chain analysis & missing links analysis
Diary cards and homework with clients
Identify therapy interfering behaviours
Develop skills to identify and manage self-harming & suicidal behaviours
Self-Harm and Suicidal Crises: A Roadmap for Assessment and Intervention
Screening and assessment tools for self-harming behaviours
Interventions and treatment considerations for the self-harming population
Suicide risk as a skills deficit problem
Tools and techniques to assess for level of risk
Firearms, medications, and lethal-means restriction plans that work
Safety plans and crisis intervention
Adapt DBT with Different Populations
Children and adolescents
Trauma survivors
Substance abusers
DBT: The Therapist and Consultation Group
3 ways to decrease therapist burnout
The characteristics of an effective DBT team
Integrating DBT into your practice
Target Audience
Counselors
Psychologists
Psychotherapists
Social Workers
Marriage & Family Therapists
Addiction Counselors
Case Managers
Mental Health Professionals
Nurses
Reviews
Overall:
5
Total Reviews: 2