Details
Product Details
Average Rating:

Not yet rated

Speakers:

Duration:

6 Hours 14 Minutes

Copyright:

Publisher:

PESI Inc.

Product Code:

RNV057925

Media Type:

DVD

- Also available: Digital Recordings
CPD
---
CPD
This online program is worth 6.25 hours CPD.
---
---
Speakers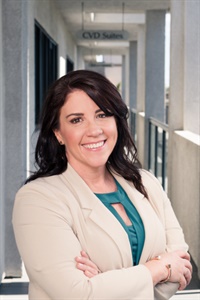 ---
Jill Stoddard, PhD, is a clinical psychologist and director of The Center for Stress and Anxiety Management. She is the author of two books: Be Mighty: A Woman's Guide to Liberation from Anxiety, Worry, and Stress Using Mindfulness and Acceptance and The Big Book of ACT Metaphors: A Practitioner's Guide to Experiential Exercises and Metaphors in Acceptance and Commitment Therapy. Dr. Stoddard is an award-winning teacher, peer-reviewed ACT trainer, and co-host of the Psychologists Off the Clock podcast. She is a frequent podcast guest, regular contributor to Psychology Today, and has had her writing appear in Scary Mommy, Thrive Global, The Good Men Project, and Mindful Return. Dr. Stoddard received her PhD from Boston University in 2007.

Speaker Disclosure:
Financial: Jill Stoddard is the founder and director for The Center for Stress and Anxiety Management. She is an author and receives royalties. Dr. Stoddard receives a speaking honorarium from PESI, Inc.
Non-financial: Jill Stoddard is a member of the Anxiety and Depression Association of America; Association for Contextual and Behavioral Science; and Association for Behavioral and Cognitive Therapy.
---
Additional Info
Program Information
Access for Self-Study (Non-Interactive)
Access never expires for this product.
For a more detailed outline that includes times or durations of time, if needed, please contact cepesi@pesi.com
Questions?
Visit our FAQ page at www.pesi.com/faq or contact us at www.pesi.com/info
Objectives
Differentiate pain from suffering to help clients understand the basis of ACT and psychological flexibility.
Propose three forms of experiential learning and practice in ACT.
Conduct a creative hopelessness exercise to help clients identify the function and cost of their behaviours.
Determine the impact of learning history (i.e., behavioural patterns from the past) on clients' current patterns of unworkable behaviour.
Demonstrate experiential exercises to help clients practice acceptance, defusion and values identification.
Differentiate goals from values and articulate the importance holding outcomes lightly.
Outline
The ACT Model: The Roadmap to Psychological Flexibility
Empirical support for treatment across diagnoses
Functional Contextualism
Relational Frame Theory (RFT)
Limitations of the research & potential risks
Deconstructing the Pathology of Emotional Pain
When anxiety, social comparison, and avoidance of uncertainty are helpful
How trying to problem solve our emotions leads to challenging behaviour
What client's pain tells us about their values
The difference between pain and suffering
Help Clients Get Unstuck Through Experiential Defusion Exercises
Avoid the trips and traps of language that result in challenging behaviours
Rely on experience over language to get desired outcomes
Ways of getting experiential with your clients
Role-play: Asking questions in an experientially focused way
Pave the Way Toward Acceptance
Experiential Exercises to Teach Clients the Function and Cost of Experiential Avoidance
What clients get out of problematic behaviour
The cost of experiential avoidance and its impact on values
Walking clients through 'creative hopelessness' (function/cost of behaviours)
Make space for the experience of discomfort
Fun ways to practice willingness, mindfulness, awareness, and acceptance
Identify Client Behaviour Patterns from Youth
Family of Origin Triggers that Lead to Unworkable Behaviour
Origin of the patterns
How they protected then
How they hurt now
Case studies: Child abuse, overinvolved parents, narcissistic parent
Build Psychological Flexibility…Don't Change Thoughts and Feelings!
Experiential Exercises to Help Clients Let Go of the Fight Against Pain
Know firsthand the difference between

Emotion avoidance and emotion acceptance
Thought suppression and thought defusion

Change client's relationship to their thoughts, self-limiting beliefs that stall treatment
Choices, processes, and steps that keep clients in the moment
Values and Committed Action:
Experiential Exercises to Help Clients Identify and Live their Values
Experiential practice for identifying client values
Overcoming obstacles to valued living
How to hold outcomes lightly in-service of committed action
Target Audience
Social Workers
Counselors
Psychologists
Physicians
Marriage and Family Therapists
Addiction Counselors
Psychotherapists
Case Managers
Nurses
Mental Health Professionals
Therapists