Description
Take your current knowledge of DBT to the next level. This training will help you focus on individual DBT techniques, specifically the behavioral chain analysis. Many DBT clinicians agree that the individual mode of DBT is the most difficult mode to implement. This training will help you add another tool to your DBT tool belt and increase your confidence while delivering this comprehensive model.
National expert and speaker Dr. Stephanie Vaughn will use case examples, recordings of actual sessions, role-plays and an up-beat, high energy and down-to-earth presentation to teach these advanced topics. Stephanie has the unique ability to translate the most challenging concepts from DBT to simple practical terms, so you are ready to use these skills the next day with your clients.
Take your knowledge in DBT to the next level
Major emphasis on specific individual DBT techniques
Hands-on practice using specific DBT strategies
Become proficient in behavioral chain analysis
CPD
---
CPD
This online program is worth 6.25 hours CPD.
---
---
Speaker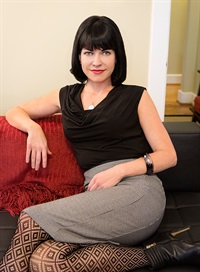 Owner/ Clinical Psychologist
Psyche
---
Stephanie Vaughn, Psy.D., Clinical Psychologist-HSP is the founder of Psyche, PLLC, a boutique outpatient therapy practice located in the Nashville, TN and Boston, MA. She is an associate faculty member at Vanderbilt University in both the psychology and psychiatry departments. Dr. Vaughn conducts Dialectical Behavior Therapy (DBT) with both adolescents and adults as a Board Certified DBT Clinician™. She is an expert on therapy-interfering behaviors and contingency management for oppositional behaviors in adolescents.
Dr. Vaughn has worked in the intensive PTSD program at the Department of Veteran Affairs with soldiers returning from Afghanistan and Iraq and female soldiers suffering from Military Sexual Trauma where she implemented formal Prolonged Exposure (PE). She is active in the teaching and supervision of DBT for Vanderbilt's psychology & counseling students and doctoral interns, as well as psychiatry residents. Dr. Vaughn has presented DBT workshops around the country for the last seven years and is a highly rated speaker. She founded and currently runs Vanderbilt's DBT Peer Consultation Group. She has served as an expert consultant for a variety of hospitals, schools, and clinics around the country.
Speaker Disclosures:
Financial: Stephanie Vaughn maintains a private practice. She receives a speaking honorarium from PESI, Inc. She has no relevant financial relationships with ineligible organizations.
Non-financial: Stephanie Vaughn is a member of the American Psychological Association.

---
Objectives
Integrate the theory and techniques of DBT into your clinical practice.
Evaluate the communication/stylistic strategies used in DBT.
Incorporate the behavioral chain analysis for specific target behaviors with clients.
Utilize the six levels of validation in therapy sessions.
Structure an individual session based on stage 1 target behavior.
Teach the use of diary cards to reinforce use of DBT skills.
Outline
Movement, Speed, Flow and Dialectics
Developing goals with clients
DBT client and therapist agreements
Decreasing and assessing suicidal and self-harming behaviors
Increasing Skill Acquisition and Strength
Mindfulness
Interpersonal Effectiveness
Distress Tolerance
Schema Change Methods – The CBT of DBT
Improving the Moment and Dialectical Synthesis
Communication/Stylistic Strategies
Reciprocal communication — Being responsive, genuine and engaging
Irreverent communication — "Plunging in where angels fear to tread"
Stages and Targets of DBT — Structuring the Treatment
Pre-Treatment Stage: Orienting the client to treatment and getting commitment
Stage 1 Target Behaviors: Decrease life-threatening, therapy interfering and quality-of-life interfering behaviors and increase DBT skills
Stage 2 Target Behavior: Decrease Posttraumatic Stress Responses
Stage 3 Target Behavior: Increase self-respect and achieve individual goals
Stage 4 Target Behavior: Increase joy, freedom and spiritual fulfillment
Targeting Strategies — What to treat and when
The Diary Card
How to teach a client to fill out a diary card
How to review a diary card in an individual therapy session
Where to look for and what to treat on a diary card
Handling diary card non-compliance
The Behavioral Chain Analysis — The ingenuity of DBT
Learning the steps to conduct the chain
Identifying function in behavior
Using behavioral principles in order to "break the chain"
Applied case studies
Core DBT Strategies: Validation
Levels of Validation — Staying awake to radical genuineness
Emotional Validation Strategies
Behavioral Validation Strategies
Cognitive Validation Strategies
Target Audience
Addiction Counselors, Counselors, Marriage & Family Therapists, Nurses, Psychologists, Social Workers, and other Mental Health Professionals.
Reviews
Overall:
4.9
Total Reviews: 8