Description
Get to the real root of parenting challenges.
Even when parents are at the top of their game, the most routine curveballs—quarrelling siblings, a child's public meltdown, or a phone call from a teacher—can trigger unresolved shame, guilt, anger or disconnection in parents.
The Internal Family Systems (IFS) approach can help parents more fully:
Understand and heal their own wounds that their children inevitably evoke
Allow the parent to better set healthy, non-controlling limits
Create a more nurturing family environment
Talk to their children about difficult subjects by using "part of me language"
Explore their reactive moments compassionately
Co-parent in a way that's supportive and collaborative that leads to greater maturity
Recover from the inevitable moments when they "lose it"
Take the necessary steps to repair with the child
Through exploring both attachment and parenting styles, as well as IFS interventions that work, you can help parents avoid triggered responses to their children.
CPD
---
CPD
This online program is worth 6 hours CPD.
---
---
Speaker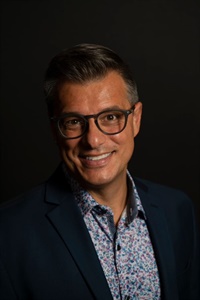 ---
Frank Anderson, MD, completed his residency and was a clinical instructor in psychiatry at Harvard Medical School. He is both a psychiatrist and psychotherapist. He specializes in the treatment of trauma and dissociation and is passionate about teaching brain-based psychotherapy and integrating current neuroscience knowledge with the IFS model of therapy.

Dr. Anderson is a Lead Trainer at the IFS Institute with Richard Schwartz and maintains a long affiliation with, and trains for, Bessel van der Kolk's Trauma Center. He serves as an advisor to the International Association of Trauma Professionals (IATP) and was the former chair and director of the Foundation for Self-Leadership.

Dr. Anderson has lectured extensively on the Neurobiology of PTSD and Dissociation and wrote the chapter "Who's Taking What" Connecting Neuroscience, Psychopharmacology and Internal Family Systems for Trauma in Internal Family Systems Therapy – New Dimensions. He co-authored a chapter on What IFS Brings to Trauma Treatment in Innovations and Elaborations in Internal Family Systems Therapy and recently co-authored Internal Family Systems Skills Training Manual.

His most recent book, entitled Transcending Trauma: Healing Complex PTSD with Internal Family Systems was released on May 19, 2021.

Dr. Anderson maintains a private practice in Concord, MA.

www.FrankAndersonMD.com
Speaker Disclosures:
Financial: Dr. Frank Anderson maintains a private practice. He is the executive director of the Foundation for Self Leadership and has employment relationships with The Trauma Center and The Center for Self Leadership. Dr. Anderson receives royalties as a published author. He receives a speaking honorarium, recording, and book royalties from PESI, Inc. He has no relevant financial relationships with ineligible organizations.
Non-financial: Dr. Frank Anderson is a member of the New England Society Studying Trauma and Dissociation and the International Society for the Study of Trauma and Dissociation.
---
Objectives
Evaluate what Internal Family Systems model of therapy brings to parenting with the "Parts" concept.
Create ways to engage parents in an exploration of their moments with compassion and empathy instead of guilt and shame.
Demonstrate how to help parents lead from a place of power and set limits for their children while still expressing love and support.
Differentiate among the various parenting styles vs. attachment styles and how they influence your client's parenting approach.
Propose an IFS-informed approach to co-parenting that helps promote improved intrafamily relationships.
Apply the "triggering agreement" intervention when working with clients around resolving parenting issues that arise for them.
Outline
Internal Family Systems (IFS)
Comprehensive, compassionate, non-pathologizing treatment approach
Paradigm-shifting perspective on "psychopathology"
Easily integrated into other therapeutic modalities
Teach clients to access inner wisdom and self compassion
What IFS Brings to Parenting
Incorporating parts language in the Family
Positive intentions of all parts
All parts welcome… really
Starting the Parenting Journey
Expectations
Family legacy - both the gifts and burdens
Cultural and spiritual dimensions
Parenting styles
Attachment styles
Neuroscience and Development
How brain development affects parents and children
Developmental stages, attachment and parental response
Parenting adolescents
When Parents Are Not at Their Best
Reactive moments
When kids become your perpetrator
The different triggering scenario's
When parents overidentify with their children
Correct It, Don't Perpetuate It
How to recover and repair when parents lose it
Direct access parenting
Getting to the root of the reactivity
Improving the Co-Parenting Experience
When parents aren't aligned
Creating a "Triggering Agreement"
From Reactive to Responsive
Healing the wound
The Parent Self
Love and limits
Maintaining the connection
Special Circumstances
Single parenting
Gender/sexuality issues
Special needs children
Parenting children with mental health issues
Parenting adult children
Target Audience
Counselors
Social Workers
Psychologists
Therapists
Marriage & Family Therapists
Case Managers
School Psychologists
School Counselors
School Social Workers
Nurses
Physicians
Addiction Counselors