Details
Product Details
Average Rating:

Not yet rated

Speakers:

Duration:

6 Hours 16 Minutes

Copyright:

Publisher:

PESI Inc.

Product Code:

RNV056185

Media Type:

DVD

- Also available: Digital Recordings
CPD
---
CPD
This online program is worth 6.5 hours CPD.
---
---
Speakers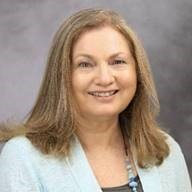 ---
Debra Alvis, Ph.D., is a licensed psychologist and private practitioner with over 25 years of clinical experience in supporting clients' recovery from shame, trauma, anxiety, depression and relational concerns. A seasoned international presenter and consultant, Dr. Alvis is a therapeutic yoga educator and retired as faculty from the University of Georgia where she developed and led the Mind/Body Program. The program included a clinician training program integrating contemplative approaches in psychotherapy. A thirty-five-year personal contemplative practice, research experience, and a deep understanding of applied neuroscience, Polyvagal Theory, and compassion resiliency further enrich her presentations. She draws upon this unique background to provide effective and easily applicable skills designed for immediate integration into clinician's practices.

Speaker Disclosure:
Financial: Debra Alvis is in private practice. Dr. Alvis receives a speaking honorarium from PESI, Inc.
Non-financial: Debra Alvis has no relevant non-financial relationship to disclose.
---
Additional Info
Program Information
Access for Self-Study (Non-Interactive)
Access never expires for this product. For a more detailed outline that includes times or durations of time, if needed, please contact cepesi@pesi.com.
Questions?
Visit our FAQ page at www.pesi.com/faq or contact us at www.pesi.com/info
Objectives
Analyze how the Polyvagal Theory expands therapeutic knowledge and treatment concerning trauma, anxiety, depression, and social engagement disorders.
Compose everyday language to better explain the Polyvagal Theory, helping clients understand their symptoms and increase their motivation.
Assess client states of threat, risk, and safety and identify effective polyvagal interventions.
Integrate therapist co-regulation tools designed build the client's self-regulation capacities.
Apply interventions to enhance self-regulation, support internal calm, increase feelings of safety, and increase social engagement.
Utilize awareness-based approaches to strengthen resiliency.
Employ contemplative practices that strengthen the clients' capacity to shift their nervous system to better manage physiologic responses.
Outline
The Polyvagal Theory & How It Drives Behaviours
The biology of safety and danger
Evolutionary changes and adaptive functions
Social engagement, fight/flight, and shutdown
The human response hierarchy for challenges
Face-heart connection – the how and why of nervous system regulation
Gestures, vocalizations, facial expressions
Polyvagal theory risks and limitations in clinical practice
Building Skills to Assess & Increase Safety
Recognize how environments trigger physiological states
Identify adaptive physiological reactions and maladaptive behaviours
Build greater nervous systems flexibility:

Play as a neural exercise
Listening as a neural exercise
Attending to visceral feelings and social cues
Strengthen Self-Regulation Skills
Increase autonomic state awareness to strengthen emotional regulation

Map vagal states with writing, drawing, & mirroring
Identify social cues that initiate defensive reactions
Explore the regulation/dysregulation continuum
Establish Disorder-Specific Skills to Address Mood and Attachment
Recognize & shift characteristic nervous system states for depression, anxiety, and attachment
Soothe anxiety

Navigate the sympathetic response
Escape the tiger!

Enliven from depression:

Engage with awe, experience wonder
Savour moments and states

Repair attachment to self & others:

Belongingness treasures
Explore the face/heart connection
Negotiate Trauma Treatment – Explore Abuse and Neglect Responses
Name defence strategies of fight, flight, and immobilization
Highlight adaptive functions of immobilization, fight, & flight
Label defence reaction behaviours
Repattern social withdrawal & shutdown responses
Recognize Autonomic States & Strengthen Resiliency Through Contemplative Practice
How contemplative practices enhance nervous system responses
The five senses & the polyvagal system
Build present moment & witnessing skills

Autonomic meditations
Gentle movements and interoceptive awareness
Titrate movement into stillness
Tone the vagal nerve with breath, sound, & imagery
Expedite Recovery, Increase Well-Being – The Polyvagal Therapeutic Container
Co-regulate with the client

Recognize, Reach, Resonate, Regulate
Conclude the session with a return to social engagement
Yawn and stretch
Body calming

Evoke safety through room & exterior design
Returning to Practice Integrating a Polyvagal Approach
Establish relational reciprocity & repair skills

Perfect Nurturer Imagery
Syncing the breath

Build relationships with self and others

Self-compassion practices to fuel empathy
connection through compassion
Target Audience
Counselors
Social Workers
Psychologists
Case Managers
Substance Abuse Disorders Counselors
Therapists
Marriage & Family Therapists
Nurses
Psychiatrists
Other Mental Health Professionals