Description
What if treating autism were more like working with trauma and less like learning a foreign language like Behavioral Analysis? That the states in which a person is more or less autistic is governed by where within their window of tolerance they are. Building on the work of Stephen Porges, the developer of Polyvagal theory (PVT), view autism expert Sean Inderbitzen, APSW, MINT, an autistic social worker as he guides you through:
Etiology of autism through the lens of a dampened social engagement system
Polyvagal Informed Framework of Autism Spectrum Disorder, a hypothesized idea that autism is state specific, not lifelong and enduring
How this framework informs modifications for EMDR and Sensorimotor Psychotherapy
Polyvagal theory gives us a basis to understand autism in a way that is modifiable with greater gains in accessing autistic clients' window of tolerance... resulting in increased creativity, openness, curiosity, cognitive flexibility, and social engagement!
CPD
---
CPD
This online program is worth 1.5 hours CPD.
---
---
Speaker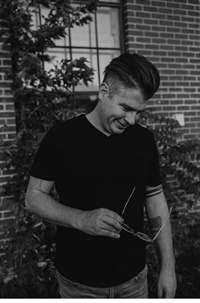 ---
Sean Inderbitzen, APSW, MINT, has lived 32 years with Autism Spectrum Disorder and is an active clinical social worker within a community health center specializing in the treatment of autism and co-occurring trauma.

In addition to his work as a therapist, Sean is a doctoral student of Tulane University's School of Social Work, and a collaborator on two studies on the treatment of PTSD in children with autism utilizing modified EMDR and utilizing Sensorimotor Psychotherapy (SP). He works closely with Sensorimotor Psychotherapy Institute on the SP study under the research and clinical guidance of Dr. Bonnie Goldstein and is under the research direction of Dr. Bruce Thyer, BCBA-D, LCSW, a distinguished research professor from Florida State University, for the EMDR study.

Sean is an active member of the Motivational Interviewing Network of Trainers and regularly lectures for state governments, foundations, and universities on motivational interviewing and the intersection of autism and mental health. His writings can be found regularly featured on Differentbrains.org, a non-profit group devoted to advancing the neurodiversity movement. Learn more at SeanInderbitzen.com.

Speaker Disclosures:
Financial: Sean Inderbitzen is a consultant and has an employment relationship with Northlakes Community Clinic. He receives a speaking honorarium and recording royalties from PESI, Inc. He has no relevant financial relationships with ineligible organizations.
Non-financial: Sean Inderbitzen is an adult who is on the autism spectrum.
---
Additional Info
Program Information
Access for Self-Study (Non-Interactive)
Access never expires for this product.
For a more detailed outline that includes times or durations of time, if needed, please email cepesi@pesi.com
Questions?
Visit our FAQ page at www.pesi.com/faq or contact us at www.pesi.com/info
Objectives
Utilize Polyvagal Theory to inform clinical treatment of Autism and comorbid PTSD.
Implement the Polyvagal-Informed Framework of Autism Spectrum Disorder to inform EMDR interventions for autistic clients with PTSD.
Employ the Polyvagal Informed Framework of Autism Spectrum Disorder to inform Sensorimotor Psychotherapy interventions for autistic clients with PTSD.
Outline
A Polyvagal Model of Autism and PTSD Comorbid: Rethinking Autism

Research on the overlap
What is the window of tolerance and its relevance to Polyvagal theory?
Implications of trauma on Executive Dysfunction
Implications on memory storage: Adaptive Information Processing Theory
Case study: Autistic child with PTSD and Dissociative Amnesia

Polyvagal-Informed Lens to Inform:

EMDR Treatment of PTSD in Autism
Protocol walk through
Adaptations for social stories and tapping
Case study: Autistic child with PTSD receiving EMDR
Sensorimotor Psychotherapy Treatment of PTSD in Autism
Modifications for mindful study of the body and mindfulness

Case study: Autistic child with PTSD receiving SP
Limitations of Research and Potential Risk
Target Audience
Addiction Counselors
Counselors
Marriage & Family Therapists
Nurses
Occupational Therapists
Physicians
Psychologists
Speech-Language Pathologists
Social Workers
Teachers/School-Based Personnel
Other Mental Health Professionals