Truly intimate and interactive learning experiences are hard to come by right now…  
 
…Just at a time when we as therapists need to be connected to help our clients navigate the severe and diverse forms of trauma they're experiencing every day.  
What we need is a safe space to exchange transformative insights into the relational dynamics at play with our clients – along with a skilled support team that can help untangle unconscious processes and complex emotional enactments.
Combining trauma skills training with live case consultation, my new 6-month programme will not only give you direct access to expert skills including assessment skills, stabilisation techniques and somatic interventions. But you will also be learning alongside committed colleagues, with the opportunity to present case material, share experiences, and reflect on the work of your peers.
Trauma Skills training: Take part in 6 interactive skills enhancing sessions, guided by Dr Schwartz's integrative model. You will learn essential healing practices from relational therapy, mindful body awareness, parts work therapy, cognitive behavioral therapy, EMDR, somatic psychology, and complementary and alternative medicine (CAM). The Skills Training Groups will be available to all and designed to be interactive with no limit on participants.
Consultation Groups: Then reserve your place in up to 6 exclusive live consultation groups, each limited to 28 people. In these groups, Dr. Arielle Schwartz will consult on three cases, giving you the chance to come together and learn from each other. Case submissions will be selected from by the clinicians at PESI UK, ensuring a rich and relevant spread of clinical themes. The Consultation Groups will have a 28-person limit, to encourage the development of a true learning community.

Normally an opportunity like this would take years of waiting to be selected … but you get the first opportunity to be part of this very limited cohort.
These opportunities will go quick, so be sure to get your place early!
---
When you accept your invitation to join this exclusive Trauma Skills and/ or Consultation 6-month programme, you will:
Gain a comprehensive view of trauma skills that you can immediately use in your practice
Discover how to build stronger connections with your clients
Learn to go beyond standard talk therapy to customise treatment for deep-rooted trauma
Learn how to create unique treatment interventions that maximise therapeutic outcomes
---
You'll get comprehensive CPD training from leading trauma expert and author Dr Arielle Schwartz.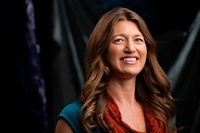 Dr Arielle Schwartz, PhD, is a licensed clinical psychologist, Certified Complex Trauma Professional (CCTP-II) and EMDR consultant with a private practice in Boulder, Colorado. She is the co-author of EMDR Therapy and Somatic Psychology: Interventions to Enhance Embodiment in Trauma Treatment (Schwartz & Malberger, 2018, W.W. Norton) and the author of The Complex PTSD Workbook: A Mind-Body Approach to Regaining Emotional Control and Becoming Whole (Schwartz 2016, Althea Press). Dr. Schwartz is an international presenter on EMDR therapy, somatic psychology, complex PTSD, attachment trauma, and the psychological treatment of chronic pain. She is a certified Kripalu yoga instructor offering therapeutic yoga for trauma recovery. Her integrative approach to therapy includes the synthesis of somatic psychology, EMDR therapy, structural integration theory, existential therapy, and Gestalt – all with a strong relational foundation of care.
---